QUALITY CRAFTMANSHIP,
AFFORDABLE PRICE

Superior performance for years to come

SET THE STANDARD

Your life, your style, your budget

STRENGTH & SECURITY

A symbol of quality

VERSATILE AND CAPABLE

Do more with a tonneau cover
TONNOSPORT® Roll-Up Cover
Sleek Low Profile Tonneau Cover
For the price conscious consumer, the TONNOSPORT® Roll-Up Cover is our most economical option while preserving our high quality standards. One of our lowest profile tonneau covers sitting only 1/2 inch above the truck bed, this tonneau cover virtually disappears when viewed from any angle. To haul oversized items, the TONNOSPORT® Roll-Up Cover simply rolls open and attaches behind the cab using durable QUICK CLIP™ Storage Straps. Install in minutes with the no drill TIGHT BITE™ Clamps to secure the cover to the truck box while an inside the rail design leaves stake pockets open for additional accessories. From easy one-person operation to all season protection, get more for less with the TONNOSPORT® Roll-Up Cover.
California Residents: Prop 65 Warning
8 DISTINCT FEATURES
TRIGGER LATCH
Single finger release to open and automatically latches when tonneau cover is closed.
PATENTED SLIDE LOCKS
Extra protection on each side of the tonneau cover. Push to lock, pull to unlock.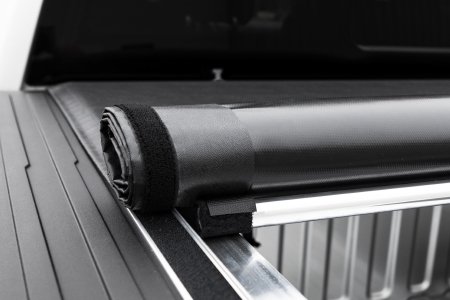 RELIABLE HOOK AND LOOP SYSTEM
Easy one person operation, a high strength seal runs down the entire length of pickup bed.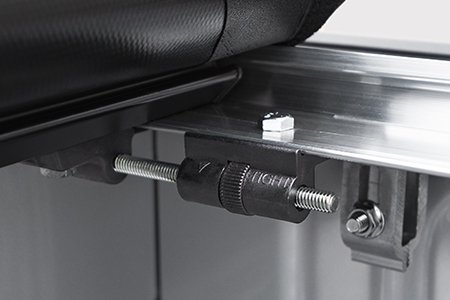 EZ-DIAL™ TENSION ADJUSTERS
Set cover tension with the turn of a dial, no tools required.
SEALS ON ALL FOUR SIDES
Front and rear built-in vinyl seals and airtight foam gasket between the roll up cover rails and pickup bed.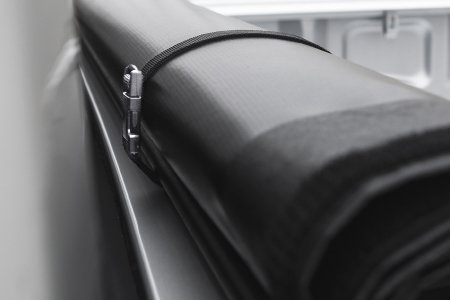 QUICK CLIP™ STORAGE STRAPS
Secure the cover behind the cab with powerful nylon straps and durable buckles.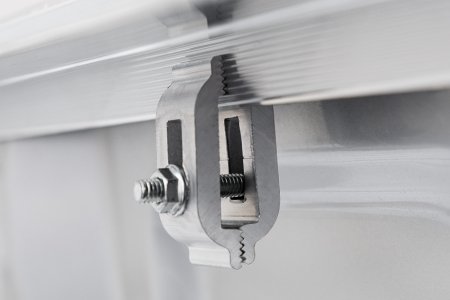 TIGHT BITE™ CLAMPS
Easy to install without the need to drill into your pickup box. Precisely cut 'teeth' provide excellent grip with exceptional strength.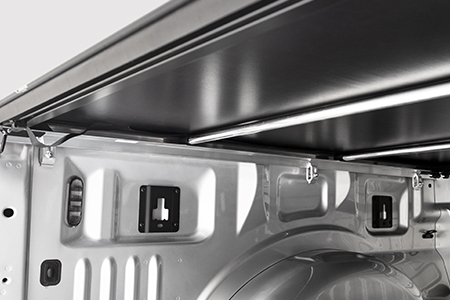 HARDWARE
The TONNOSPORT® Roll-Up Covers feature aluminum bows and rails with black bars.
TONNOSPORT®
ROLL-UP TONNEAU COVER

VIDEOS

Bad weather and the elements don't stand a chance against TONNOSPORT® Roll-Up Covers. Installation could not be easier, simply follow along with the install video and get back on the road in no time. Proudly manufactured in the USA, each of our low profile tonneau covers are designed to meet your needs. Protect your gear with a TONNOSPORT® Roll-Up Cover today.

Watch more videos
TONNOSPORT®
ROLL-UP COVER PHOTO

GALLERY

In the past more for less has not meant this much. TONNOSPORT® Roll-Up Covers are a great choice whether you spend time in the field or driving through town. The images above showcase how snug this tonneau cover will fit your truck and how well your cargo will stay covered. The TONNOSPORT® Roll-Up Cover is built and priced with great value in mind, get yours today.