TONNOSPORT® Roll-Up Cover - Sleek low profile tonneau cover with a great low price
The ACCESS® TONNOSPORT® Roll-Up Cover gives you a sleek, low profile look at a great low price. When closed, this low profile tonneau cover sits a mere 1/2" above the truck box - practically vanishing before your eyes from either the rear or side profile. TONNOSPORT® is a lockable tonneau cover and rolls up out of the way for easy access to the entire truck box. There is no need for removal when hauling larger items. This low profile tonneau cover gives your truck a smooth, streamlined look while providing you with gas mileage savings and protection for your truck bed cargo.
Adding a low profile tonneau cover to your truck bed is a great way to improve gas mileage
The low profile TONNOSPORT® Roll-Up Tonneau Cover is our most affordable and one of the lowest profile roll up tonneau covers ACI manufactures. In just a few short years of owning the tonneau sport, the locking tonneau cover pays for itself by increasing your gas mileage by nearly 10%! TONNOSPORT® Truck Bed Cover also comes with a 2 Year Limited Warranty. The ACCESS® TONNOSPORT® Roll-Up Tonno Cover fits your truck and your lifestyle at a low price.
Add TONNOSPORT® Tonneau Cover to make your pickup work better for you
Adding the right tonneau cover can boost your pickup's usefulness in ways you might not expect. By the makers of the ACCESS® Roll-Up Cover, the TONNOSPORT® Cover has four-season protection and a secure latching system. A TONNOSPORT® Roll Up Cover on your pickup bed can help make your life easier. If you buy something too big to store in the cab you can secure the item under ACCESS® Locking Tonneau Covers. The smooth rolling action of the TONNOSPORT® Roll Up Tonneau Cover is easy for one person to quickly roll or unroll. Preparing for camping trips, shopping sprees, or just doing a day's work, you will see this product is a great asset for any pickup truck.

The TONNOSPORT® Roll-Up Cover gives you a sleek, low profile look at a great low price.
Features:
Great Looks, Practical Usage
Fits your lifestyle, your truck and your budget.
Warranty:
California Residents:
EZ-DIAL™ Tension Adjusters
Set cover tension with the turn of a dial, no tools required.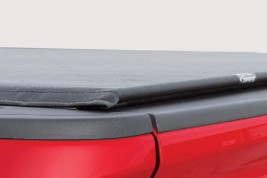 Seals on All Four Sides
Front and rear built-in vinyl seals and airtight foam gasket between the roll up cover rails and pickup bed.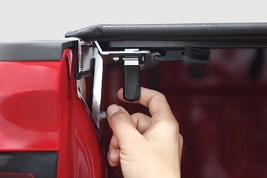 Trigger Latch
Single finger release to open and automatically latches when tonneau cover is closed.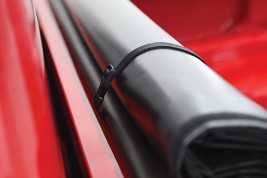 Quick Clip™ Storage Straps
Secure the cover behind the cab with powerful nylon straps and durable buckles.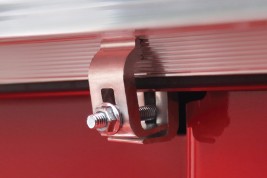 Tight Bite™ Clamps
Easy to install without the need to drill into your pickup box. Precisely cut 'teeth' provide excellent grip with exceptional strength.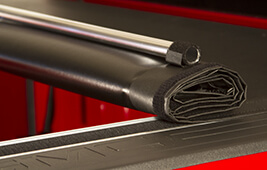 Reliable Hook and Loop System
Easy 1 person operation, a high strength seal runs down the entire length of pickup bed.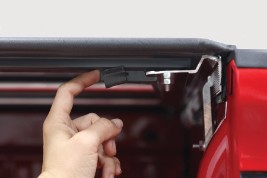 Slide Locks
Two patented Slide Locks offer additional locked protection for the cover. Push to lock, pull to unlock. Works with a locking tailgate to give you ultimate security.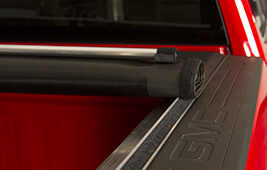 Frame and Bows
The cover includes mill finish bows, and rails. Our roll up covers are fastened to the front and back bars to prevent off centering, keeping your cover aligned for a better looking, longer lasting tonneau.
California Residents: Prop 65 Warning