TRAILSEAL® Sealing Gaskets
Front Box and Tailgate Seal for Pickups
A closed tonneau cover and tailgate alone will not keep the elements out. Both an ELEMENT SEAL™ Gasket and patented TRAILSEAL® Tailgate Seal are must add on pickup bed accessories to complement your truck bed cover, topper or lid because driving will suck debris into your truck box through holes and crevasses. Keep this undesirable dirt out and your items clean and dry by eliminating this avoidable mess. Our universal seals for trucks can be installed in minutes with three simple steps, just cut, peel and stick. Prevent dust, water and snow from entering your truck box with an ELEMENT SEAL™ Gasket and TRAILSEAL® Tailgate Seal.
California Residents: Prop 65 Warning
SEALING GASKETS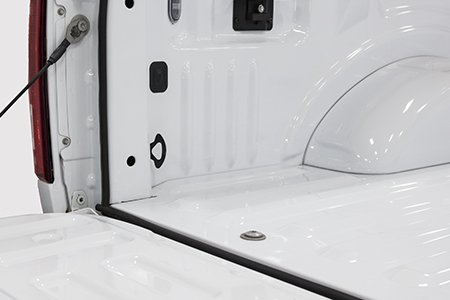 ACCESS® TRAILSEAL® Tailgate Gasket
Designed specifically for tailgates and seals gaps around the perimeter of any truck's tailgate.
TAILGATE SEAL VIDEOS
Keep dust, rain and snow out of your truck bed and protect your cargo with the TRAILSEAL® Tailgate Gasket to seal gaps around the perimeter of any truck's tailgate. See for yourself how the TRAILSEAL® Tailgate Gasket maintains a tight barrier between your truck bed and the elements.
CUSTOMER REVIEWS
By Tom L. - WI
" The product installed like the instructions and videos indicated. I am impressed with the product and was surprised to find something like this that was as easy to use and appears to stay in place!! "
By Glen H. - NY
" Bought the Tailgate Gasket to seal up to make my tailgate basically. waterproof. Product is easy to instal and does a fabulous job. "
Read more customer reviews